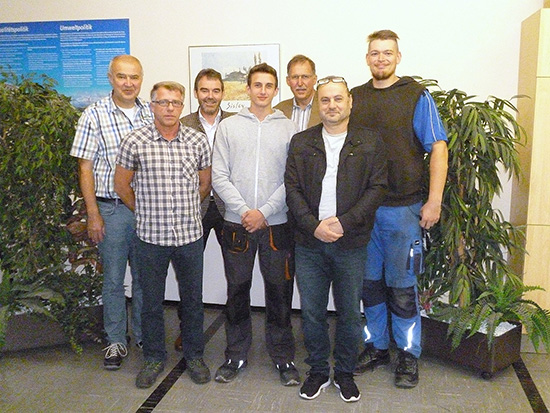 Apprentices introducing themselves
Apprentices introducing themselves
On 1 September an apprentice commenced his training as machine and plant operator at Roeslau Wire GmbH & Co. KG. Mr. Lucas Wölfel was welcomed by 2nd year apprentice Mr. Patrick Schörner. They had a quick snack together, during which he explained the company's history and philosophy to Mr. Wölfel.
From left to right: Company Director Hans-Dieter Wölfel, foreman RW Werner Grießhammer, General Manager Willi-Josef Ferfers, apprentice Lucas Wölfel, Chief Human Resource Officer Robert Popp, Chairman of the Works Council Sezai Yilmaz and apprentice Patrick Schörner.
Visit of the Working Group Quality Management
Visit of the Working Group Quality Management
On 09 March 2017, the quality management working group visited the Röslau steel and wire works (SDW) with 15 participants.
The SDW product range includes patented drawn and oil tempered spring steel wire in the dimensional range from 0.07 mm to 6 mm wire diameter. SDW's product range includes patented wire rod bearings, pickling, wire peeling for the higher grades, drawing including the patenting process, some wire testing (including eddy current testing) and, finally, assembly was inspected.
Our employees and the QM working group exchanged information on the product, the quality management system and quality assurance.
The QM working group also exchanged experience on the new edition of IATF 16949:2016 and ISO 9001:2015.